RIU shows you Marrakesh in three days!
date_range 22 March, 2019
question_answer
Leave your thoughts
We are sure there are many weekends when you would like to get away from it all to escape the daily grind but don't know where to go. Our aim in this post is to show you the city of Marrakesh in three days!  To do this we have put together a full three-day programme including everything there is to discover in this destination in your free time. How about coming along with us?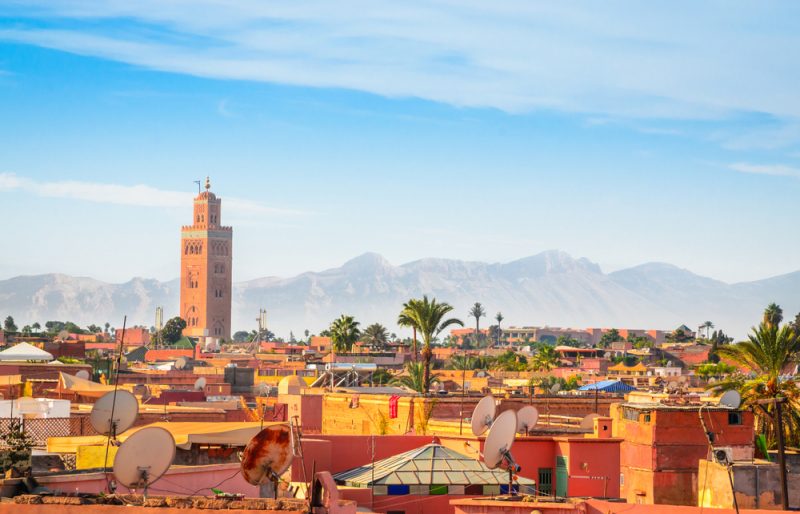 Why Marrakesh?
The reddish tones that flood the entire city make this a unique destination with a very special ambience. All you need to do is keep your eyes wide open because the streets and local people themselves reveal their culture and history that shines through in their language, cuisine, architecture and religion. Every step you take will be special and unique because, as we said, there is nowhere else like this in the world!
Thanks to this magic the city transmits, we decided to open up this destination with two hotels, the Riu Tikida Garden and the Riu Tikida Palmeraie, both perfectly located for enjoying an incredible three-day holiday in Marrakesh.
How to organise three days in Marrakesh
Day 1
Obviously, the first thing we recommend you do is to check in at the hotel and to relax. You need to begin the assimilation process of the destination.  Once you have looked around the facilities and settled in there is no time to lose! You need to start walking to be able to cover every last place you need to visit. Remember that we only have three days!
If you head towards the Medina, the old city, at its heart you will find the famous Jemaa el-Fna Square where you can appreciate the local culture through the wealth of local food and colour that surrounds this bustling space full of people. It is just like a story condensed into an image, a genuine wonder declared a UNESCO Intangible Heritage of Humanity site.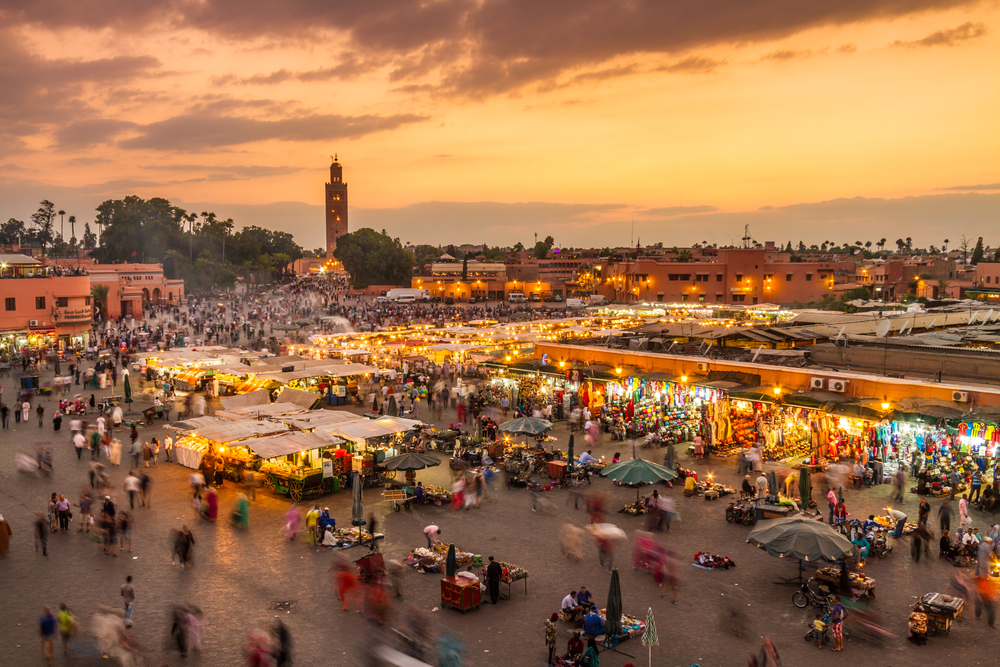 We recommend that you sit down to enjoy a delicious tea in the paradise of colours and the movement around you, as there are always lots of people passing by throughout the course of the day. The continuous hustle and bustle is quite amazing – it's something you just have to experience. You are sure to be entertained as you will see jugglers, storytellers, magicians and acrobats. All life is here!
The next step is to head towards the north side of the square and enter the famous Souk, an incredible labyrinth of streets where we suggest you lose yourself for the rest of the day. It is full of captivating stores offering a massive variety of typical products of the area. You can lose track of time as you immerse yourself in the authentic Marrakesh!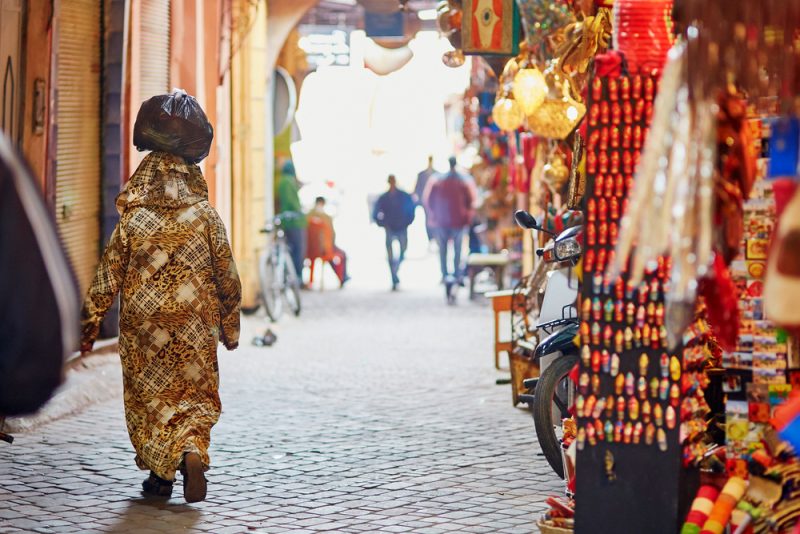 When you return towards the hotel at nightfall, go back once again to the square for the wonderful snapshot of life that it offers by night.
Day 2
To get your second day off to a great start you can have breakfast in any of the main restaurants of our two hotels and which will definitely feature a selection of local dishes. Once you have had enough to eat, the next step is to get back out onto the streets, this time to leave the general hubbub behind and visit other well-known spots in the city that are bound to impress.
The first essential stop is at the Koutobia Mosque, which is always visible as you take long strolls through Marrakesh. You will no doubt have asked yourself what is was, given that it forms the main focal point of the city with views of it from many different points.  The literal translation is "the booksellers's mosque" because, when it was first built, it was always surrounded by numerous bookstalls. After this, you can continue your walk as far as the famous Bahia Palace where you can wander through the incredible gardens of this architectural jewel that dates from the end of the 19th century.
Another must in Marrakesh is the Marjorelle Botanical Garden where you will find an extensive variety of cacti, palm trees and many other plants. This is a space that enables you to take a short break from the flurry of activity of your trip, given that it truly is a natural paradise. Once there, you can also pay a visit to the Museum of Islamic Art.
Before going back to the hotel to rest, go around the perimeter of the Medina and discover the marvellous doors that make up the walls of the old city.
Day 3
The last day has arrived! Do you know what you can't possibly miss before leaving Marrakesh? The Saadian Tombs. They are located within a small garden accessed via a narrow passageway. It is the cemetery where the servants and warriors of the Saadi dynasty are buried and where you can find the main mausoleum that houses the remains of Sultan Ahmad al-Mansur and his family. Nowadays it is one of the city's most visited spots.
Finally, we invite you to visit the renowned Menara Gardens, where people go to enjoy family time together and escape the hustle and bustle of the city. Take it easy on your last day in Marrakesh! The gardens contain a great many trees in the midst of which is a huge pond where a beautiful building stands. After enjoying this marvellous view we suggest that you book your final dinner in the Moroccan Restaurant located in our Riu Tikida Garden and Riu Tikida Palmeraie hotels where you can try delicious local flavours. What better way to bid farewell to Marrakesh?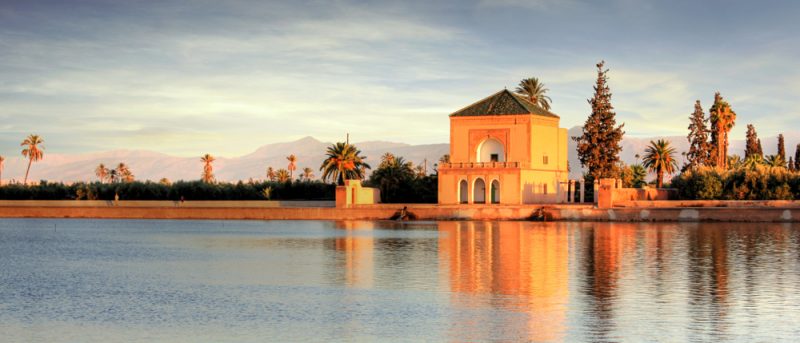 How did you enjoy our three-day tour of Marrakesh? There are many other places for you to discover in this marvellous city with its mixture of architectural styles. That's why our next recommendation would be for you to come back again! And, as always, you know we would be delighted to welcome you in either of our hotels in the city. Marrakesh is waiting for you!