Travel to Morocco by cooking authentic lamb Tagine
date_range 29 April, 2016
question_answer
2 Comments
If there is something we enjoy at RIU, it is good food. Our chefs prepare exquisite dishes to satisfy even the most demanding palates, as is proven in today's post. Chef Ahmed Abargh, at the Hotel Riu Palace Tikida Agadir, teaches us how to cook an authentic Moroccan delicacy, lamb Tagine with prunes and almonds.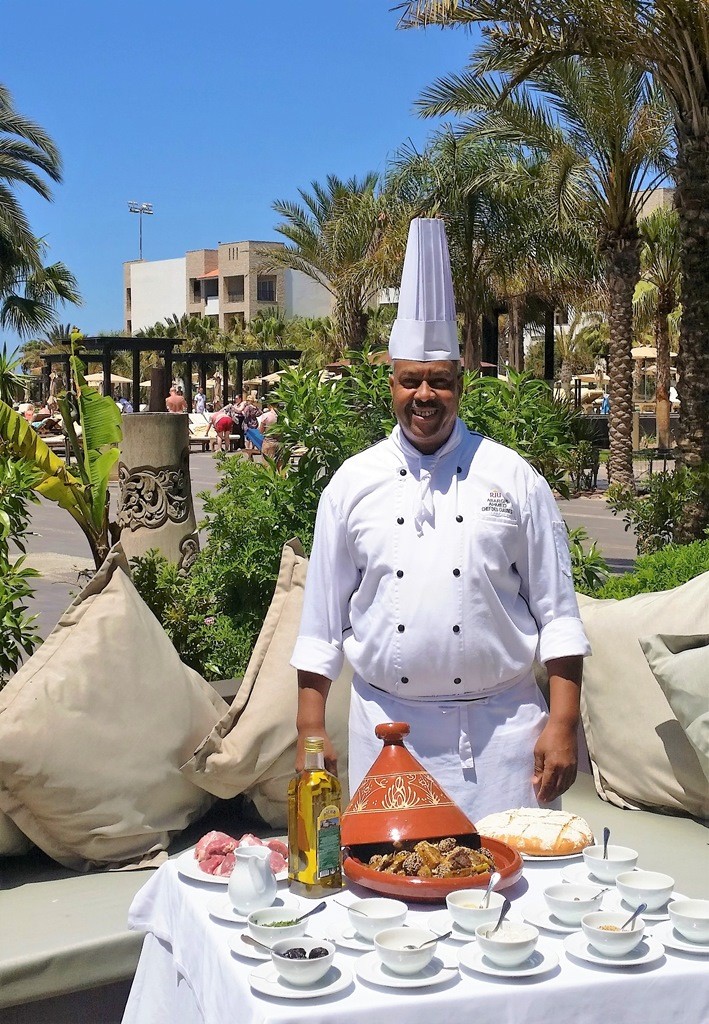 It doesn't take long to prepare this delicious meal, native to Morocco, the preparation will only take 30 minutes. Afterwards, you must let it cook for 90 minutes and done! let's get started…You must first take note of the ingredients needed:

Ingredients (8 servings)
5 kg of lamb, quartered
2 tablespoons virgin olive oil
2 onions
3 cloves of garlic
1 teaspoon salt
Cinnamon
A pinch of saffron
Whole prunes
Peeled almonds
Sesame seeds
2 tablespoons ginger
5 heaping tablespoons sugar
Once you have all the ingredients which, as you can see, are readily available in any supermarket, we will begin with the preparation: take a pan, add the olive oil and cook the meat until just browned, then cut the onion and add to the pan.
Next, add the minced garlic, a pinch of salt, the 2 tablespoons of ginger, three of sugar and a pinch of saffron. Mix all the ingredients carefully and cover the meat with water, simmering on low heat for about 90 minutes.
Once the meat is ready, place the prunes in a pot, and add two ladles of the meat stock, 2 tablespoons of sugar and 3 tablespoons of cinnamon. Let them cook for approximately 15 minutes.
While the prunes are cooking and the meat is cooked to perfection, you must lightly toast the sesame seeds in a pan with no oil. Next, fry the almonds in a little oil and drain well. Lastly, add the prunes and the seeds to the meet and enjoy!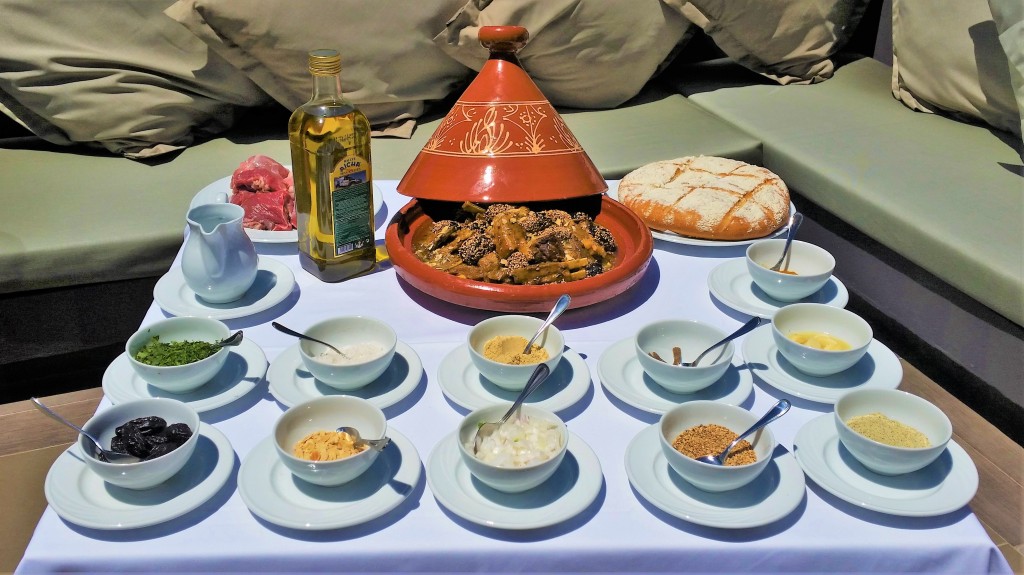 The colours, the intense flavours and the aromas are the main ingredients in Moroccan cooking. There is a contrast present in every dish and that is what makes each of them unique delicacies. In RIU, we wanted to transport you to North Africa with this Tagine. You can see how this dish was prepared in the following link.