RIU introduces you to the star dishes in its hotel cuisine
RIU introduces you to the star dishes in its hotel cuisine
date_range 23 July, 2019
question_answer
Leave your thoughts
At RIU we know that one of the most important considerations when choosing a destination is the food, since this can help us learn so much about the culture of a place. This is why we have come up with a small selection of the best dishes from some of our hotels in order to take you on a small tour of the cuisine on offer at RIU. Will you come along and take a look?
1. Riu Playacar
Now we are moving on to Mexico, and to Playa del Carmen where the Riu Playacar hotel is located. One of our guests' most requested dishes is our "Grilled Salmon Fillet" which is served in the hotel's Italian restaurant "Traviata". This is a light and tasty option which combines textures and flavours which will transport you to the Mediterranean. It is a great alternative for both lunch and dinner.
Another option which you will also surely love, is the "Grilled Rib Eye Steak", one of the top options at the Steak House restaurant. It is considered to be one of the tastiest steaks. And best of all? The steak is cooked to the diner's liking, who cannot fail to enjoy the flavour of this steak, paired with an excellent wine and while enjoying the gentle breeze of the Caribbean sea.
2. Riu Yucatan
Without leaving Mexico, we are going to travel on to the Riu Yucatan hotel whose speciality is stuffed chiles, a traditional dish of the region which is available in the hotel's Mexican restaurant.
It is one of central Mexico's most symbolic and famous dishes and dates back to the colonial era. In this hotel the chiles are stuffed with poblano peppers, another type of chile sliced into strips and also cheese, corn and shrimp.
Very few guests dare to try this dish because of how spicy they think it will be, but the mix of flavours makes the spiciness of the chile practically disappear and normally once you've tried it, you will want to go back for more!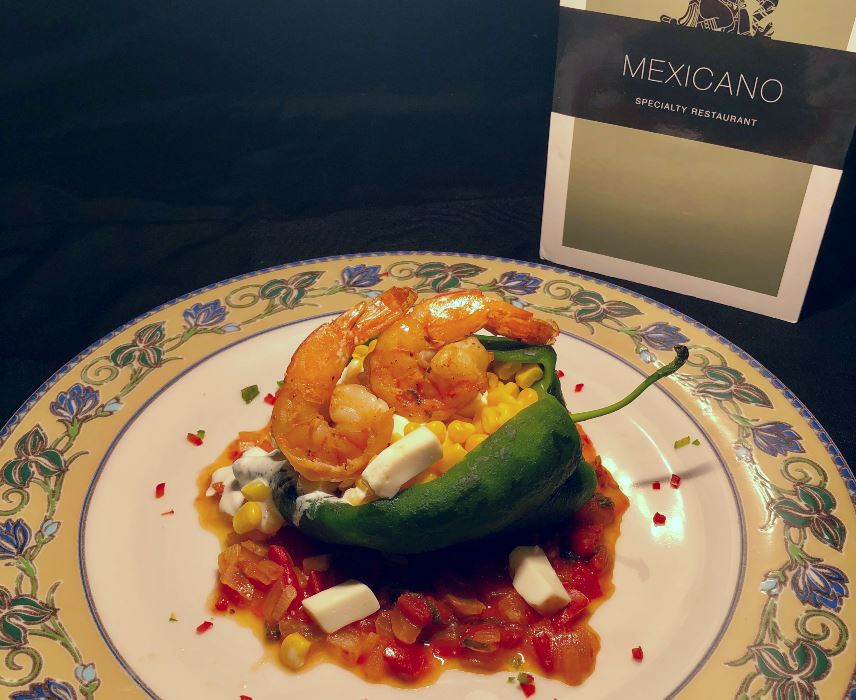 Have we whet your appetite with our small selection of dishes? For RIU, you are our most important food critic. If we haven't convinced you yet, don't worry, there are plenty of other hotels in the RIU chain that offer speciality dishes Don't delay! Come and try these delicacies at RIU. Dinner is served!