What hotels are there in Gran Canaria?
date_range 21 May, 2019
question_answer
Leave your thoughts
Gran Canaria is a destination that offers everything to everybody thanks to the variety of the activities on offer and places to visit. It boasts almost 60 km of beaches making it a paradise of golden sands designed to be enjoyed. This tropical setting offers you its own unique cuisine and the chance to explore the island's beautiful towns and villages. If you enjoy sport it is the perfect place for bike riding or doing watersports.
What do you need to do in order to enjoy all this? Choose the place to stay that best suits your needs. That's why we have selected some RIU hotels that we are sure you'll like.
Riu Palace Maspalomas and its privileged location
This wonderful hotel is in an amazing setting in that it could not be closer to the Dunes of Maspalomas! What better place to get to know one of the gems of Gran Canaria?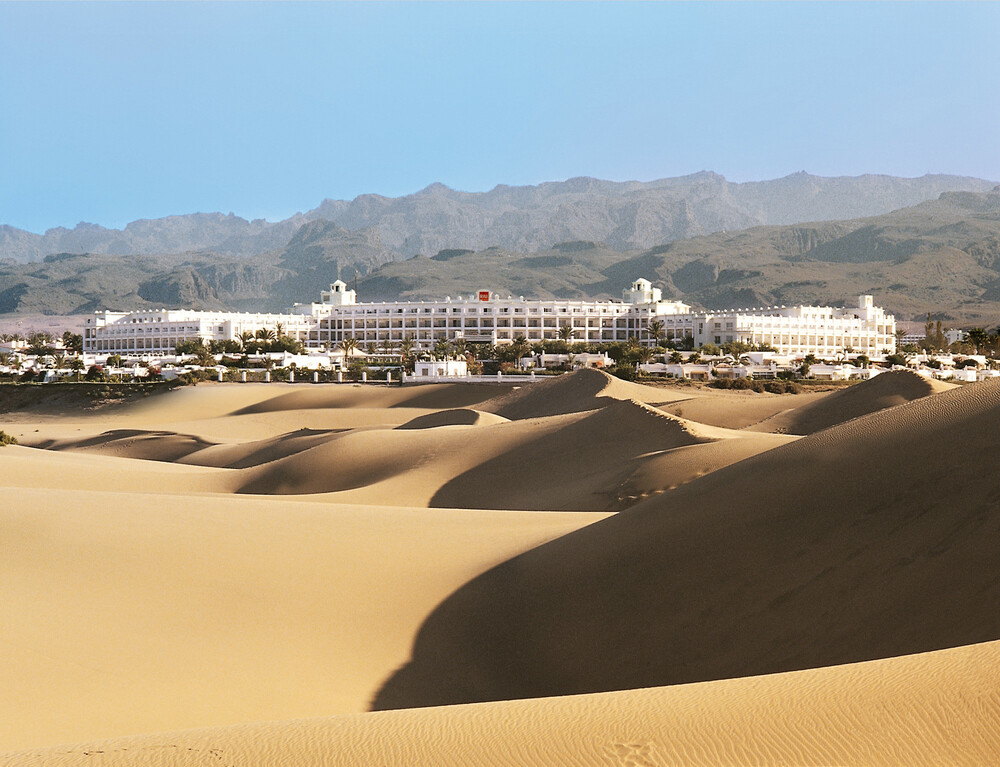 TheRiu Palace Maspalomas is a hotel in which you can have a particularly enjoyable stay thanks to the excellent service provided by its staff. While it is true that the setting is a vital factor of your holiday stay, so too is the company and the way you are treated by the staff. It as essential as salt is to food.
You will find exquisite attention to detail in the dishes prepared for our Fusion Restaurant "Krystal" where you will enjoy delicious meals. It will be a true gastronomic experience thanks to the modern approach based on the combination of haute cuisine techniques and the freshest of ingredients.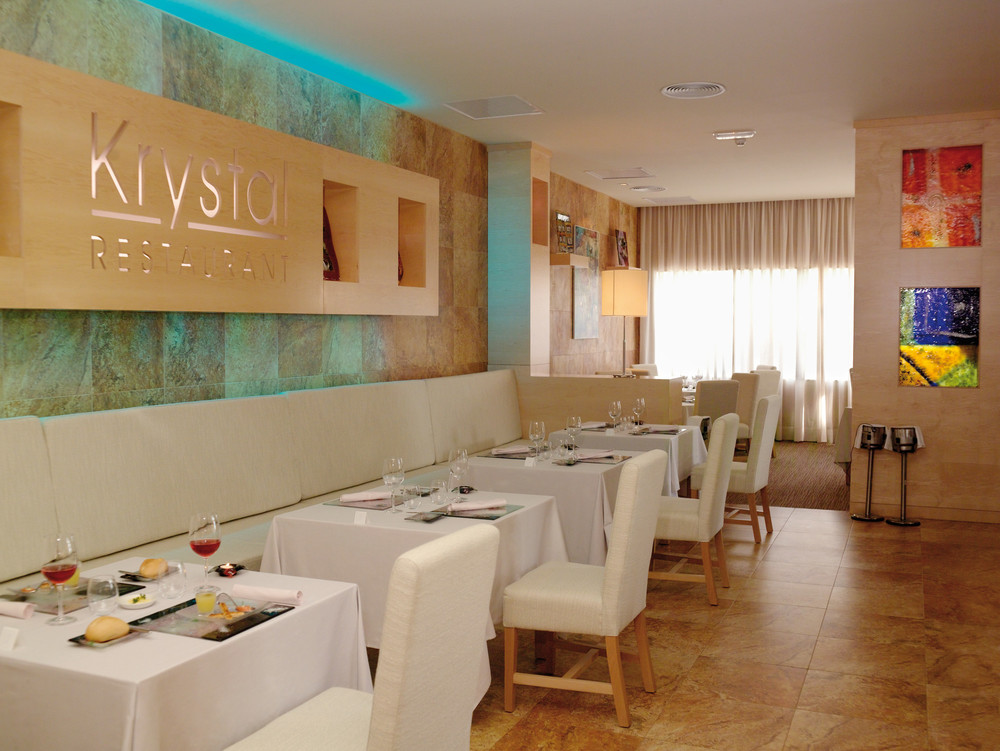 Another of the attractions of this hotel is its 28,000 m² of tropical gardens which, along with the adjacent dunes, create a perfect combination that you will find nowhere else. The garden also features a jacuzzi where you can relax in a unique setting.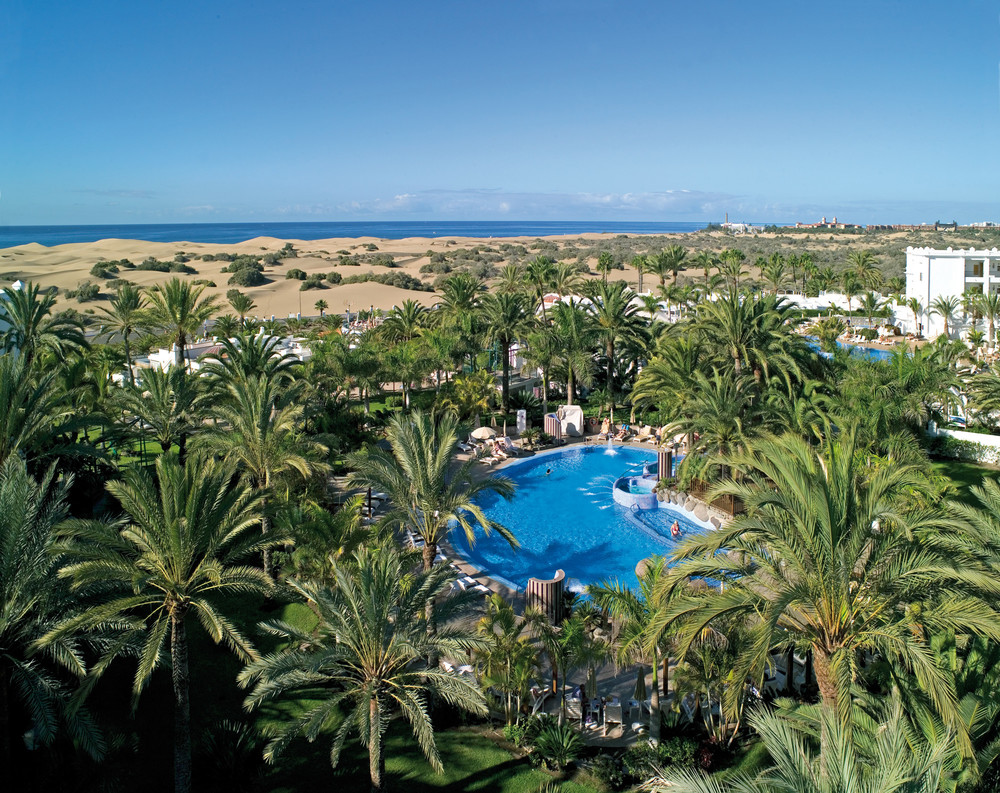 This hotel transports you to a different world where nature takes centre stage in this marvellous work of art located in Gran Canaria.
The recently opened Riu Palace Oasis
The results of last year's renovation of the Riu Palace Oasis have been truly spectacular with attention paid to every detail in its modern design. Its strong point is glamour. Entering the lobby is like walking into the pages of a design magazine, thanks to the gleaming floor and spectacular combinations of light and dark tones.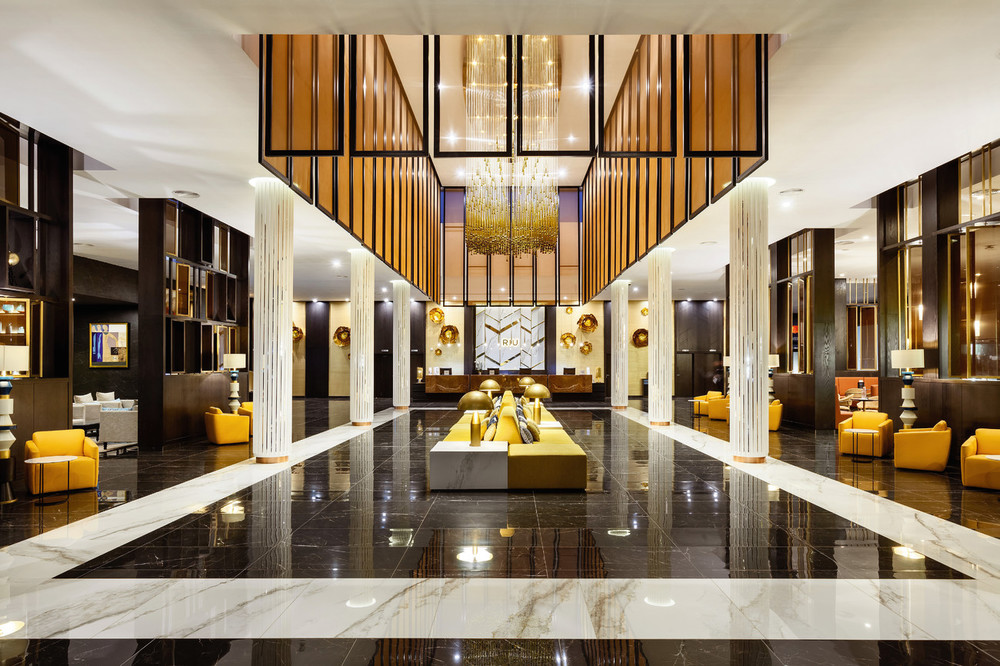 This elegance is reflected across all of the facilities and in each of the 415 bedrooms whose decor is finished in wood and warm tones allied with a modern design. Among them are 50 swim-up rooms, meaning that they have a private pool, a little luxury designed to provide a little extra peace, quiet and privacy.
One of the best features of this hotel is that it has direct access to the beach as it is right on the beachfront. You can take advantage of an infinite number of amenities while surrounded by the taste and elegance reflected in every aspect of this spectacular hotel's decor.
What other RIU hotels are there in Gran Canaria?
Don't think our hotel offer in Gran Canaria ends there. We have lots of possibilities that we are sure will match your priorities. This time we would like to show you hotels according to their most outstanding features be it the location, facilities or entertainment provided.
1.      Riu Don Miguel
This hotel, right on the beach on the famous Avenida de Tirajana is known for its bright colours and decor in which purple is the predominant colour. They always have all types of activities going on and are real aces when it comes to encouraging people to get involved. This continuous round of activities is something that is very successful with their clientele. The hotel is also near the famous Yumbo shopping centre. You won't be short of things to entertain you!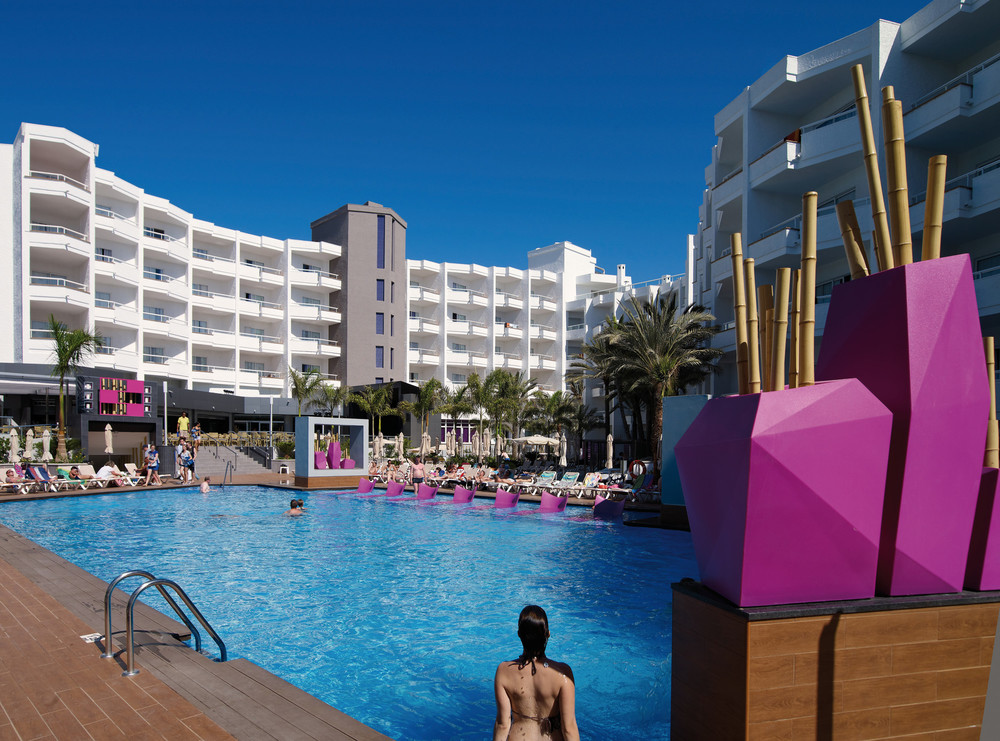 2.      Riu Gran Canaria
It is located next to the hotel Riu Palace Meloneras and is ideal to go to with youngsters in that they have all kinds of facilities for children. Among them you will find the RiuLand Club and a children's pool. Those who are not so young can take advantage of the Riu4U club which is aimed at 13 to 17 year-olds and where they can make new friends and take part in activities more suited to their age group.
3. Riu Palace Meloneras
A combination of greys and aubergine are the predominant colours throughout this modern and spacious property One of its leading qualities is the view it offers out over the beach and as far as the horizon where you can enjoy magnificent sunsets. And best of all? It has five large swimming pools, one so close to the sea that you feel as though you are actually in it. The children also have a pool all to themselves.
4.      Riu Papayas
It was renovated in 2016 and offers a broad range of entertainment for children and adults wth the backing of RIU's entertainment staff. The Riu Papayas provides a variety of culinary possibilities and you can discover the delights of Gran Canaria cuisine in the buffet restaurant. You can also enjoy Asian food in the "Shú" restaurant and typical Spanish specialities in the restaurant "Olé".
5.      Riu Vistamar
We have left this hotel until last as it is in a different location to all the others, given that this 4-star establishment sits atop a cliff. And best of all? Its sea views, which certainly live up to its name and ensures that, although you are a little bit further from the beach, it is worth it if what you are looking for is peace and quiet.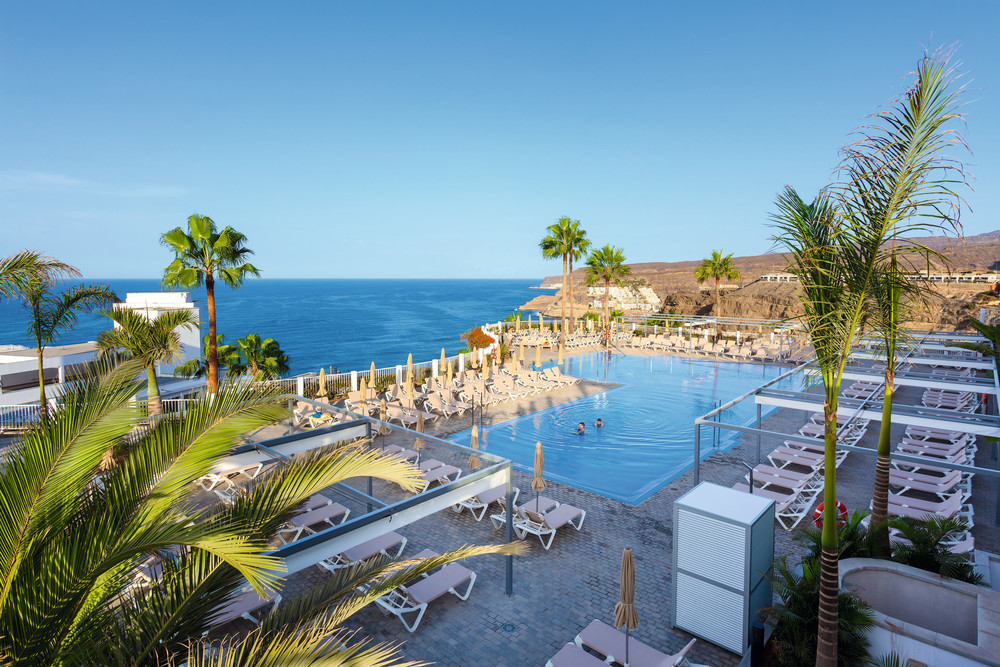 Did you enjoy the run-through of our hotels on Gran Canaria? It's a destination that has everything! We have, however, left one hotel out, the Riu Palace Palmeras, the chain's first hotel in this destination that will open up again after its refurbishment. This is just a short preview of what we like best about our hotels on this island because, as far as we are concerned, they are all marvellous. We have tried to pick out the best features of each one so that you can pick your favourite. This summer we have the perfect place for you in Gran Canaria!