GLUTEN-FREE RIU HOTELS FOR CELIACS
At RIU Hotels we ensure we offer the very best in food, making the cuisine one of the strong points of our service. We have a wide variety of dishes, cooked freshly each day, that include local recipes as well as international flavors. However, our commitment goes even further and to offer our clients comfort and peace of mind, we are adapting to their dietary needs.
DISHES DESIGNED FOR ALL OUR GUESTS
So, if your diet has any special characteristics or if you require meals with some kind of restriction: gluten free, lactose free, vegan…, we ask you to tell us when you make your booking to ensure that there is a service available that meets your needs.
Normally, RIU hotels offer products suitable for celiacs that our staff can point out, but complete menus are not always available. Therefore, even if you have told us when the booking was made please tell the hotel reception beforehand so that, on the day of your arrival, we have food with the right characteristics, since not all destinations have easy access to produce appropriate for these diets.
Our chefs, waiters and staff are ready to attend to your queries and requirements. Even so, if you are celiac and you are looking for extra peace of mind, or if you intend to eat outside the hotel at any time, we recommend that, when travelling, you take an information card with you in the language of the destination country, to explain your situation. You can print out gluten free information cards at this website or at this second website where the information is translated into several languages.
ENJOY ALL THE RIU CLASS ADVANTAGES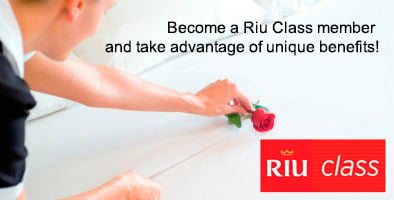 With the Riu Class program you will receive a member card that identifies you as a valued guest in our hotels. You can enjoy multiple benefits booking through our website.
Register by filling the online registration form.