HOTELS ON MAURITIUS ISLAND: A TRIP TO PARADISE
Riu Hotels searches the world for special and unique places to locate its new hotels. Mauritius has been the latest addition: an island renowned for the smiles on the faces of the people, fine white sand beaches, lush greenery and pleasant weather. Choose the hotel that acomodate all your needs from the three new Riu Hotels in Mauritius. We promise you a unique experience!
MAURITIUS ISLAND, THE SMILE OF THE INDIAN OCEAN
Once home to the legendary dodo, Mauritius is also known as the "beach island". It has 165 kilometers of coastline, tranquil crystal-clear waters and is surrounded by coral reef. Its location, around 900 kilometers off Madagascar and just over 200 kilometers from Réunion, has given it a varied culture. All this makes Mauritius a little paradise in the midst of the Indian Ocean.
Hotel Riu Le Morne (an Adults Only Hotel), Hotel Riu Coral and the Hotel Riu Creole are the first three All-Inclusive Riu hotels in Mauritius; they are located at the feet of Le Morne Brabant Mountain, on the Le Morne Peninsula. This coastal area offers a wide range of services and amenities, all kinds of facilities for visitors as well as water sports, including windsurfing, kite surfing and snorkeling. However, Mauritius offers much more than idyllic beaches; the island can boast many attractions and places not to be missed, like old towns with colonial architecture, breathtaking natural spots that are unique in the world, with spectacular waterfalls and extinct volcanoes, and well-known towns like Port Louis and Rose Hill, popular for its local market and shopping centers.
So, if you are travelling just to relax, for your honeymoon or you are visiting the island in search of adventure, Mauritius is a garden of contrasts that offers an amazing combination of mountains, unusual plants and animal species, as well as some of the world's most beautiful lakes and beaches. If, to all this, we add its cultural blend and the friendliness of its people… what else can you ask for?
SPECIAL PROMOTION UP TO 35% OFF, BOOK NOW!

Discount already included in the price. This promotion is valid for stays from 16.05.2015 to 31.07.2015
ALL INCLUSIVE MAURITIUS HOTELS
ENJOY ALL THE RIU CLASS ADVANTAGES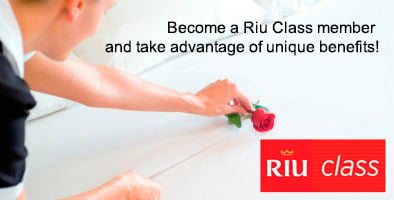 With the Riu Class program you will receive a member card that identifies you as a valued guest in our hotels. You can enjoy multiple benefits booking through our website.
Register by filling the online registration form.