Five RIU cocktails you can't miss
date_range 17 February, 2022
question_answer
2 Comments
When we plan our holidays, we consider important aspects such as the destination, the location of the hotel and the amenities. Today we want to suggest that you go beyond that. This is possible with RIU! Imagine yourself sipping your favourite cocktail next to the beach while watching the sunset. And what if that drink is prepared in a RIU hotel?  Today we show you some of the star cocktails you can enjoy when you travel with us.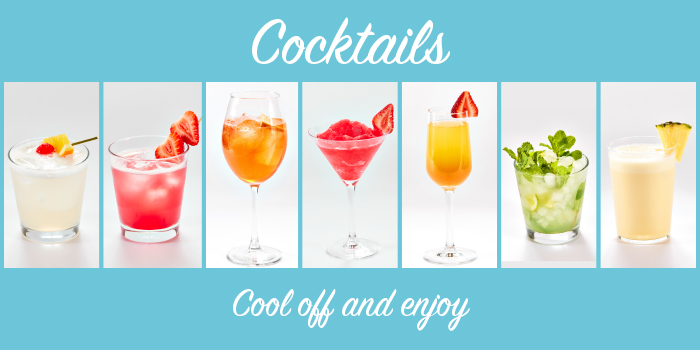 As you know, the word RIU is synonymous with tradition and this is also reflected in our drinks menu, which has been designed and prepared with great care. There are several cocktails that top the list of guest favourites. Would you like to discover five cocktails that you can't miss if you stay at RIU?
1. Mojito
We've got it in all colours and flavours! There's nothing better than a refreshing mojito to kick off the holidays. If you opt for the classic flavour, this cocktail, which tastes like the Caribbean, is made with rum, mint, lime, sugar and soda. And of course, plenty of crushed ice to cool you down!
2. Aperol Spritz
Aperol Spritz is like that friend you take with you everywhere you go because it goes down so well. This cocktail is a hit wherever it is! What's in the RIU Aperol Spritz? This drink that has won over so many palates is made with Aperol, Prosecco and soda. These flavours are always accompanied by ice and a slice of orange to give it that final fruity touch that we know you like so much.
3. Bellini
If you have ever visited our hotels, you will no doubt have seen our famous Bellini. This traditional cocktail is famous among many of our guests. It is made with cava and strawberry and peach puree. Haven't you tried it? We recommend you give it a whirl on your next visit. You'll love it!
4. Strawberry margarita
Are you a strawberry lover? This is the cocktail for you! It is a combination that lets you enjoy the purest flavour of natural strawberries. What's in it? Tequila, cointreau, lime juice and strawberries. The perfect combination!
5. Piña Colada
It's never too late to try the famous piña colada that you'll find on the menu in any bar. At RIU we put our special mark on this exquisite cocktail made with rum, coconut milk and pineapple juice.
Our gin menu
After introducing you to some of our star drinks, we must not forget gin and tonic: If you prefer to savour the winning combination of gin and tonic, at RIU we will prepare the perfect glass for you. But what is the most important thing when ordering a gin and tonic? Choosing the gin you like the most. We all know that when it comes to choosing a brand, there is an eternal debate about which is better, more aromatic or drier. We love to have these conversations in our hotels and that's why at RIU we have a wide variety of gins, among which we're sure you'll find your favourite. There's even more! Did you know that each gin comes with a different botanical? Whether it's strawberry, cardamon, cucumber or liquorice, at RIU we know exactly how to combine these and we'll make sure you have a five-star gin and tonic.
If you want to try new flavours and move away from the classic gin and tonic, we recommend you try our Strawberry Gin Mare. What's in it? Gin mare, strawberry puree and lemon juice. You can also take the plunge and try the Gin Fizz made with gin, lemon juice, sugar and soda. A different mix to surprise your palate.
Other RIU classics
We still haven't mentioned your favourite drink? The menu is very extensive and includes cocktails such as the Martini, Caipirinha, Daiquiri, Bloody Mary and the highly acclaimed Cosmopolitan. But that's not all! If you prefer to raise a toast with a glass of wine, you will also find a wide range of these on our menus.
Do you like our suggestions? They are all classics and we have many more! These are cocktails that have always been on our menu. They have become part of our history and the RIU product. We love to see you enjoy yourself when you come to spend your holidays with us, and what better way than with a delicious cocktail in your hand?