Luis Riu: "Ramón Arroyo is a legendary employee with his own story to tell"
date_range 26 April, 2019
question_answer
3 Comments
To think about Ramón Arroyo is to think about laughter, songs, whistled tunes and the scent of his cologne. I don't wish to wax lyrical, but everyone who knows him, and there are many of them both within and outside RIU, will recognise him in everything I say. But perhaps not all of them realise that Ramón Arroyo, apart from being one of RIU's most long-standing employees, is the only one to have reported directly to three generations of the Riu family during his 45-year career with the company. The position of Director of Technical Services is usually kept well away from the spotlight, but today I would like him to shine in his own right which is why he takes centre stage in this post.
The Riu family and Ramón Arroyo: a professional relationship that has lasted for decades
Ramón Arroyo and I have known each other since I was a child. When I first joined RIU I used to work with Doña Luisa in the staff shop at the Riu Caballero. But our professional relationship really began in the Canary Islands in 1984 when we worked together on preparing the opening of the Riu Palmeras, our first hotel outside the Balearics. At that point, Ramón had already been with the company for 20 years, most of them spent working side by side with Juan Riu. "Don Juan was very tough. I guess he saw some promise in the young lad that I was back then when I started with RIU, and he wanted me to learn and to grow with the company. And even though he lost his temper, it was all forgotten a few minutes later. He was all heart", explains Ramón when recalling my grandfather.
"Luis Riu's grandfather was very tough, he wanted me to learn and to grow. But he was all heart", says Ramón Arroyo of Juan Riu.
From his position as a technician, Ramón has witnessed the entire history of RIU, and has a genuine "gut feeling" for the hotels. It can be traced right back to when we were a small family business in Playa de Palma right up to the major challenges presented by our international expansion. And on this last point, there is one thing we totally agree on: The biggest challenge we ever faced was the development in Punta Cana. There were no roads or running water, no power, no telephone lines, no nothing! It was there that we learned how to overcome all those obstacles and shortcomings and for every subsequent project, each one with its own complications, we have tackled the difficulties step by step. Nothing has been nor ever will be like that first experience in Punta Cana.
Ramón Arroyo: "What I most value about Luis Riu is his closeness and trust"
And so, project by project, Ramón and I have grown together professionally. With now more than a glance, we understand each other perfectly and I trust him completely. His position could be very appealing to unethical people, those who might allow themselves to be tempted by a commission in exchange for one kind of investment or another. But I know full well that if Arroyo proposes any kind of improvement, it is because it is needed and good for the hotel. But neither he nor his network of suppliers have ever been suspected of such conduct. And that level of trust is priceless. "We know each other very well. I know at a glance if it is the right time to raise any particular issue. And what I most appreciate about Luis, which he has in common with all the previous generations, is the clarity and speed of his decision-making, as well as his closeness, approachability and trust. That is something that, despite RIU's growth, has not changed".
"Luis Riu and I know each other very well, and I know at a glance if it is the right time to raise an issue or not", says Ramón Arroyo
Luis Riu: "Ramón Arroyo's work is essential to RIU's business"
Today, Ramón Arroyo heads up a team of technicians and engineers responsible for hotel audits, as well as assisting with renovation work and openings. His work is essential to the business. Among his responsibilities, apart from an infinite number of minor matters, he has to ensure the hotel has running water which is hot for showers and cold for air-conditioning, that there is electrical power and that the sanitation system works. If just one of these elements fails then the hotel cannot operate. That's how crucial his work is.
And after all these years, having now reached 65, it is inevitable that the subject of his retirement has arisen. He says that he likes his job. How could it be otherwise with so much effort and so much travelling involved which, by the way, is a testament to the character of his wife. "I've been able to do the job I enjoy thanks to my wife. Who else could put up with this level of absences and trips away if not someone with the character required to hold the family together?". And for that reason, he explains, he would like keep going for just a few more years, as he loves what he does. So long as his family doesn't need him. If that happens, he will leave it all behind to take his turn at putting his shoulder to the family wheel.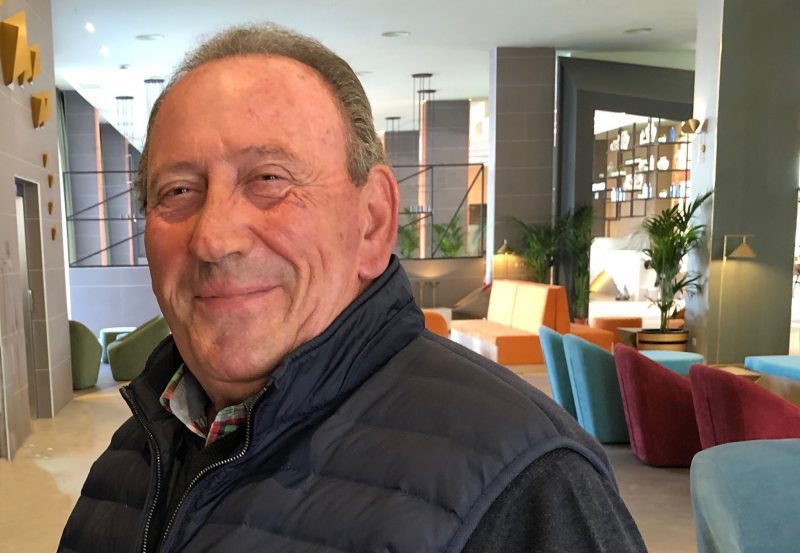 Fortunately, the time has not yet come for farewells, but in order to prepare the ground, he has already built up a fine team of technicians very much aligned to RIU's working philosophy. What I am clear about, though, is that when the time comes, we will very much miss his smile, his songs and his 'joie de vivre'.
Fdo. Luis Riu